We develop products

To improve products. To create desires. To fulfill companies and users needs without loosing sight of our main aim: good design. For us that means that products must be attractive and innovative that a lot of people will want to have them. Keeping an open mind and thinking creatively we are looking for intelligent, simple constructive and economical solutions. Being curious and always prepared to learn. We can draw on our experience from other sectors to develop products and get them ready for serial production. We strive to be visionary but pragmatic in order to create competitive products with technical and aesthetic qualities which are convincing to the consumer. Modern production methods are employed efficiently, always keeping in mind economical and ecological aspects as well as company marketing aspects and consideration for their market position. Years of experience and working hand in hand with companies have confirmed this working concept. We have been developing products for over 25 years.

Our customers include: ABB, American Standard, Bibliographisches Institut & F.A. Brockhaus AG, Biffar, Duscholux, Franke, Freudenberg, Hailo, Ideal Standard, Lamy, Renz, Roche, SCM Microsystems, Soehnle

Our capital: our people both young and old = experience, fresh ideas and ambition. Space and peace, continuity, a great espresso coffee machine and everything we need to function (CAD/CAM, Pro/Engineer, SolidWorks, CNC-processing, model construction workshop).

Areas of operation: Concepts, product design, construction, engineering, prototypes, strategical consultation.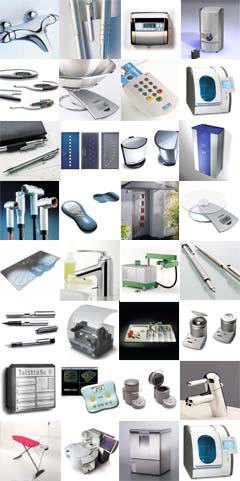 portfolio (english)
download PDF